Book Launch: Domenico Ingenito
Jan 27, 2021 @ 10:00 am
-
1:00 pm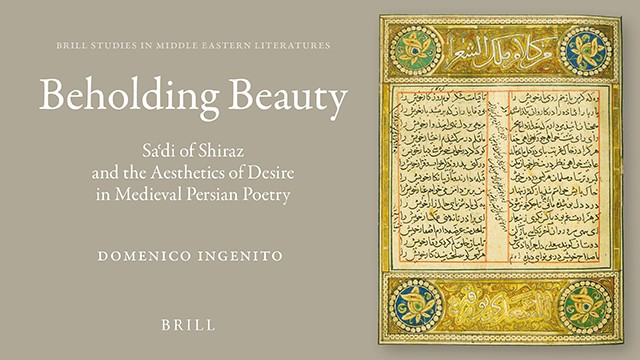 Book Launch: Domenico Ingenito's Beholding Beauty: Saʿdi of Shiraz and the Aesthetics of Desire in Medieval Persian Poetry (Brill, 2020)
A conversation with Paul Losensky (Indiana University) and Jane Mikkelson (University of Virginia)
Wednesday, January 27, 2021
10:00 AM (Pacific Time)
To RSVP, please click here.
Beholding Beauty: Saʿdi of Shiraz and the Aesthetics of Desire in Medieval Persian Poetry explores the relationship between sexuality, politics, and spirituality in the lyrics of Saʿdi Shirazi (d. 1292 CE), one of the most revered masters of classical Persian literature. Relying on a variety of sources, including unstudied manuscripts, Domenico Ingenito presents the so-called "inimitable smoothness" of Saʿdi's lyric style as a serene yet multifaceted window into the uncanny beauty of the world, the human body, and the realm of the unseen.
The book constitutes the first attempt to study Saʿdi's lyric meditations on beauty in the context of the major artistic, scientific and intellectual trends of his time. By charting unexplored connections between Islamic philosophy and mysticism, obscene verses and courtly ideals of love, Ingenito approaches Saʿdi's literary genius from the perspective of sacred homoeroticism and the psychology of performative lyricism in their historical context.
Sponsor(s): Center for Near Eastern Studies, Iranian Studies, Pourdavoud Center for the Study of the Iranian World