Persian and Greek Participation in the making of China's First Empire
Apr 22, 2018 @ 2:00 pm
-
4:00 pm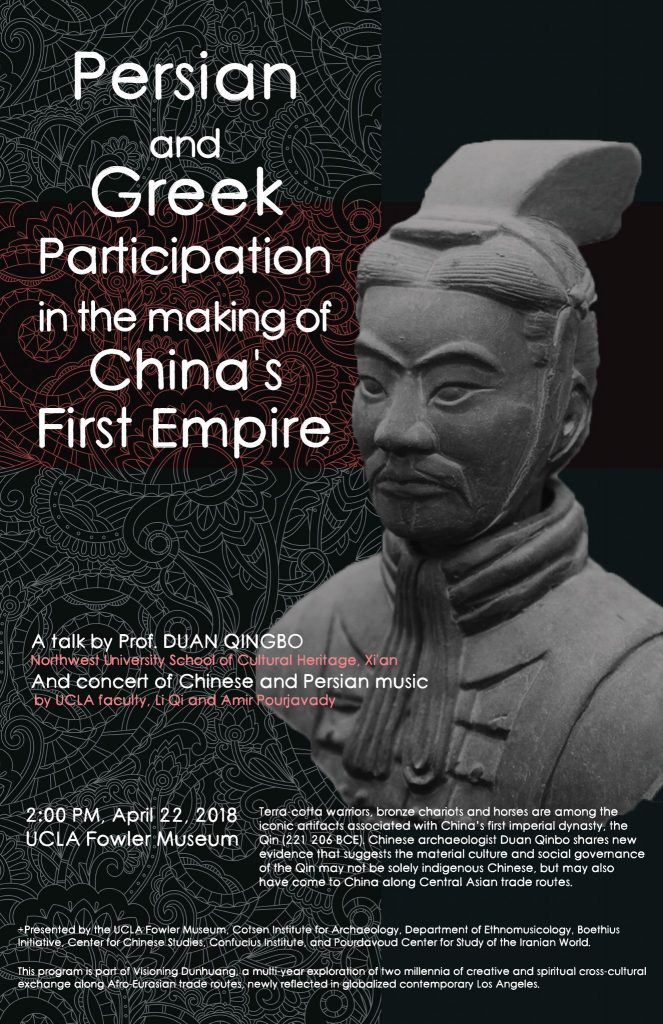 Terra-cotta warriors, bronze chariots and horses are among the iconic artifacts associated with China's first imperial dynasty, the Qin (221 206 BCE). Chinese archaeologist Duan Qinbo shares new evidence that suggests the material culture and social governance of the Qin may not be solely indigenous Chinese, but may also have come to China along Central Asian trade routes.
A talk by Prof. Duan Qingbo (Northwest University School of Cultural Heritage, Xi'an)
And concert of Chinese and Persian music by UCLA faculty, Li Qi and Amir Pourjavady
Presented by the UCLA Fowler Museum, Cotsen Institute for Archaeology, Department of Ethnomusicology, Boethius Initiative, Center for Chinese Studies, Confucius Institute, and Pourdavoud Center for the Study of the Iranian World.
This Program is part of Visioning Dunhuang, a multi-year exploration of two millennia of creative and spiritual cross-cultural exchange along Afro-Eurasian trade routes, newly reflected in globalized contemporary Los Angeles.