Pourdavoud Center Lecture Series: Antigoni Zournatzi
May 13, 2019 @ 4:00 pm
-
6:00 pm
306 Royce Hall,
10745 Dickson Plaza




Los Angeles

,

CA

90095

United States
+ Google Map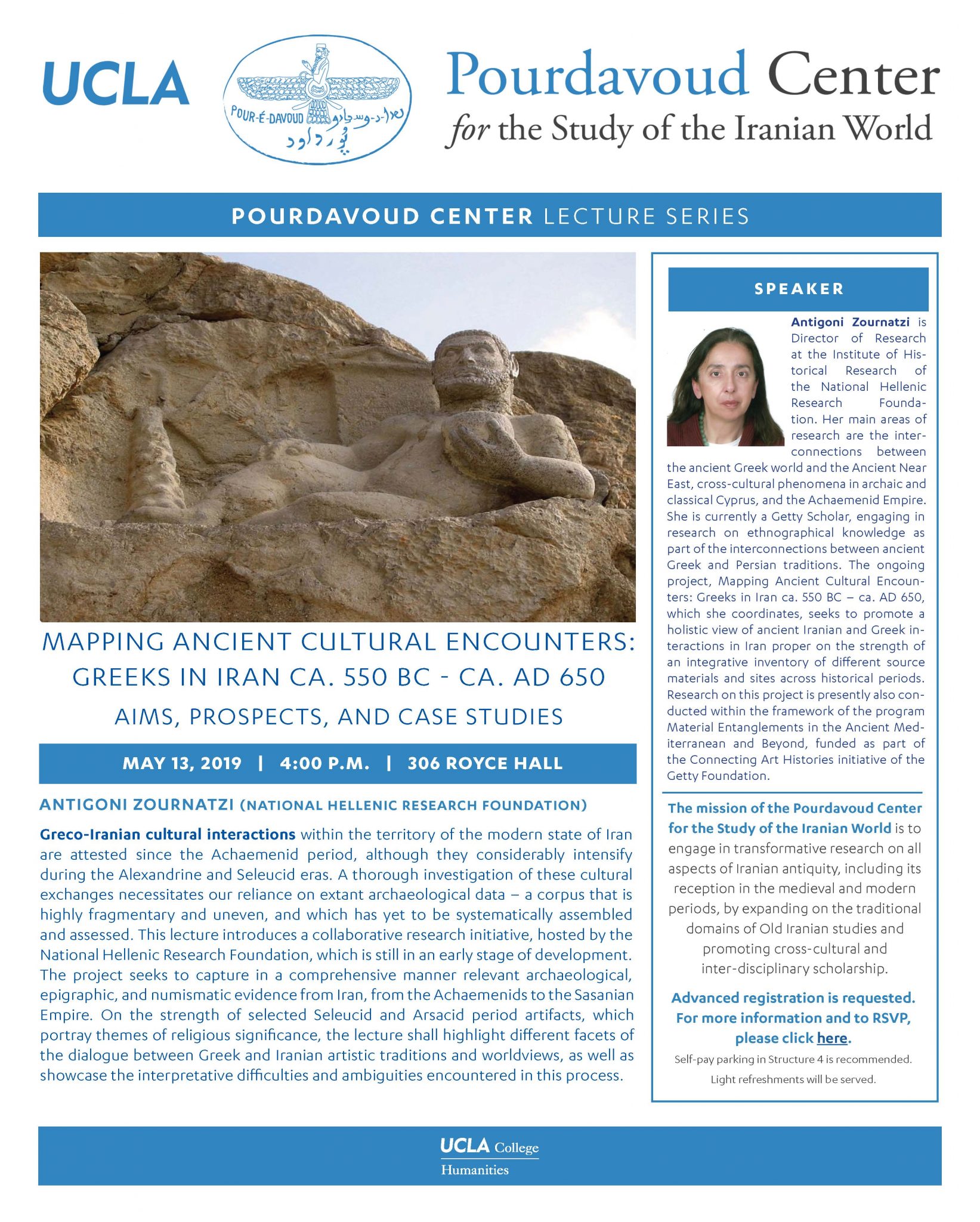 Please join the Pourdavoud Center for a lecture by Dr. Antigoni Zournatzi as part of the 2018-2019 Lecture Series.
Mapping Ancient Cultural Encounters: Greeks in Iran ca. 550 BC – ca. AD 650: Aims, Prospects, and Case Studies
Greco-Iranian cultural interactions within the territory of the modern state of Iran are attested since the Achaemenid period, although they considerably intensify during the Alexandrine and Seleucid eras. A thorough investigation of these cultural exchanges necessitates our reliance on extant archaeological data – a corpus that is highly fragmentary and uneven, and which has yet to be systematically assembled and assessed. This lecture introduces a collaborative research initiative, hosted by the National Hellenic Research Foundation, which is still in an early stage of development. The project seeks to capture in a comprehensive manner relevant archaeological, epigraphic, and numismatic evidence from Iran, from the Achaemenids to the Sasanian Empire. On the strength of selected Seleucid and Arsacid period artifacts, which portray themes of religious significance, the lecture shall highlight different facets of the dialogue between Greek and Iranian artistic traditions and worldviews, as well as showcase the interpretative difficulties and ambiguities encountered in this process.
About the Speaker
Antigoni Zournatzi is Director of Research at the Institute of Historical Research of the National Hellenic Research Foundation. Her main areas of research are the interconnections between the ancient Greek world and the Ancient Near East, cross-cultural phenomena in archaic and classical Cyprus, and the Achaemenid Empire. She is currently a Getty Scholar, engaging in research on ethnographical knowledge as part of the interconnections between ancient Greek and Persian traditions. The ongoing project, Mapping Ancient Cultural Encounters: Greeks in Iran ca. 550 BC – ca. AD 650, which she coordinates, seeks to promote a holistic view of ancient Iranian and Greek interactions in Iran proper on the strength of an integrative inventory of different source materials and sites across historical periods. Research on this project is presently also conducted within the framework of the program Material Entanglements in the Ancient Mediterranean and Beyond, funded as part of the Connecting Art Histories initiative of the Getty Foundation.