14th Melammu Symposium
Feb 18, 2020
-
Feb 20, 2020
314 Royce Hall,
10745 Dickson Plaza




Los Angeles

,

CA

90095

United States
+ Google Map
Fourteenth Symposium of the Melammu Project
"Contextualizing Iranian Religions in the Ancient World"
Please click here to view the full symposium schedule.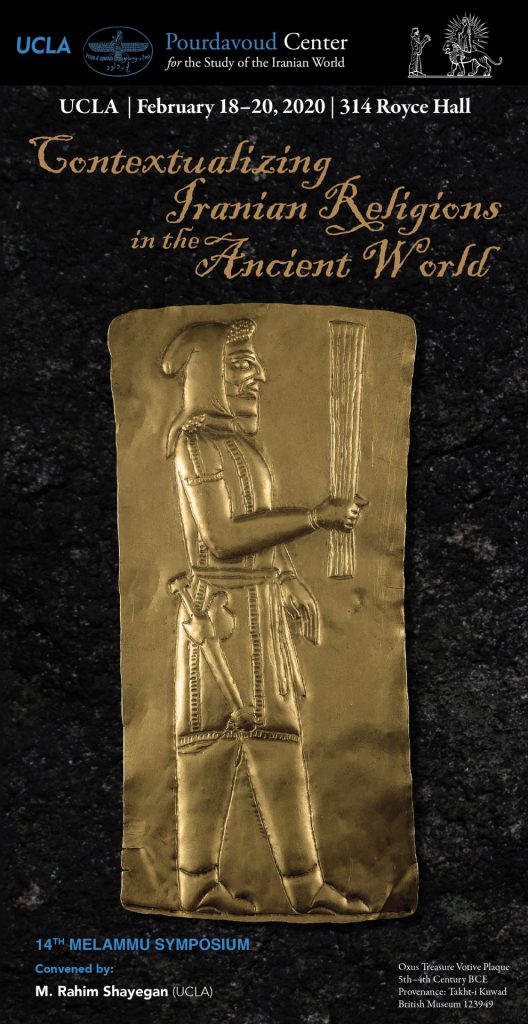 The 14th Melammu Symposium: Contextualizing Iranian Religions in the Ancient World
The Pourdavoud Center for the Study of the Iranian World is convening the 14th Melammu Symposium at UCLA. The international three-day symposium held at Royce Hall will explore Iranian religions in light of ancient Near Eastern traditions and precedents. It hosts scholars whose work pertain to the interchange of ideas and practices between the ancient Near East, Egypt, the Classical and Hellenistic worlds, and ancient Iran. The overarching themes of the symposium encompass: Elam, the Ancient Near East, and Persia; Ancient Egypt and Persia; the Divine in Achaemenid Material Culture; (Post-)Achaemenid Religious Practices in Literary Traditions; Religions and Religious Policy in the Hellenistic and Arsacid Worlds; and the Religious Landscape of the Sasanian World.