Pourdavoud Center Lecture Series: Bruno Jacobs and Robert Rollinger
November 5, 2021 @ 11:00 am
-
12:30 pm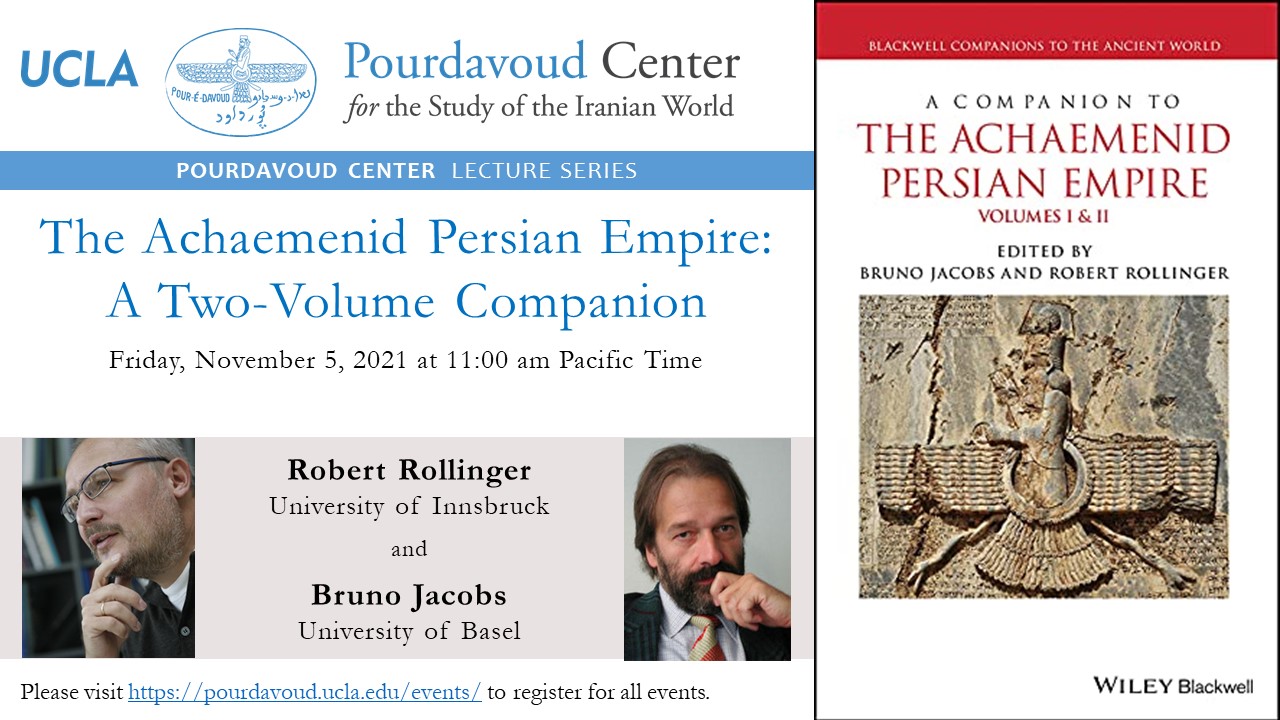 The Achaemenid Persian Empire: A Two-Volume Companion
Often called the first world empire, the Achaemenid Empire is rooted in older Near Eastern traditions. A Companion to the Achaemenid Persian Empire offers a perspective in which the history of the empire is embedded in the preceding and subsequent epochs. In this way, the traditions that shaped the Achaemenid Empire become as visible as the powerful impact it had on further historical development. But the work does not only break new ground in this respect, but also in the fact that, in addition to written testimonies of all kinds, it also considers material tradition as an equal factor in historical reconstruction. This comprehensive two-volume set features contributions by internationally-recognized experts that offer balanced coverage of the whole of the empire from Anatolia and Egypt across western Asia to northern India and Central Asia.
Comprehensive in scope, the Companion provides readers with a panoramic view of the diversity, richness, and complexity of the Achaemenid Empire, dealing with all the many aspects of history, event history, administration, economy, society, communication, art, science and religion, illustrating the multifaceted nature of the first true empire.
Part of the acclaimed Blackwell Companions to the Ancient World series, A Companion to the Achaemenid Persian Empire is an indispensable work for students, instructors, and scholars of Persian and ancient world history, particularly the First Persian Empire.
About Bruno Jacobs
Bruno Jacobs is an Assistant Professor of Marketing at the Robert H. Smith School of Business. He holds a Ph.D. degree from Erasmus University Rotterdam. He also holds a M.S. degree in Econometrics and Management Science from Erasmus University Rotterdam. Professor Jacobs focuses his research on customer analytics by developing new methods to describe, understand, and predict customer behavior. His current work focuses on customer purchase decisions in large-scale product assortments. His work has been published in Marketing Science and presented at the INFORMS Marketing Science Conference and the Marketing Dynamics Conference. He teaches Marketing Research Methods in the undergraduate program.
About Robert Rollinger
Robert Rollinger is Professor of Ancient History and Ancient Near Eastern Studies at Universität Innsbruck, Austria. He is a scholar of history and culture between the Aegean world and the ancient Near East. He has been a visiting professor at the Institute for the Study of Muslim Civilizations (AKU-ISMC) and the Institute for History (Jean Monnet Chair for European History) at Universität Hildesheim. In 2008, Rollinger became the first Austrian historian to be a member of the European Network for the History of Ancient Greece, which is dedicated to changes in ancient historical research.
Pourdavoud Center Lecture Series - Bruno Jacobs and Robert Rollinger