Recorded: February 22, 2023
Event: Pourdavoud Center Lecture Series
Citation: Mittertrainer, Anahita. "Symbols of Royal Authority? Early Sasanian Cityscapes in Southwestern Iran," Pourdavoud Center Lecture Series (February 22, 2023).

by Anahita Mittertrainer (Museum Fünf Kontinente)
The early Sasanian royal city foundations of Gūr and Bīšāpūr and their respective surrounding areas were actively shaped by the new ruling dynasty with the goal of making an imprint of identity on the landscape and – especially in the initial phase – decisively influenced the development of the spatial, structural, and pictorial formal language of the new empire to be created. This paper argues that the cities and their irrigated hinterlands were the first instances of early Sasanian territorialisation and possibly intended to convey an initial vision of the new empire – not only to the inhabitants of the cities, but also to the long-established noble families in the surrounding areas. Thus, these imperial power structures served as symbols of political identity and played an essential role in the formation of the early Sasanian state.
About the Speaker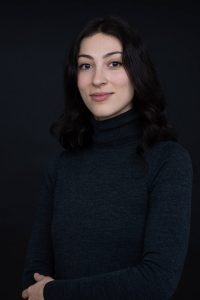 Anahita Nasrin Mittertrainer is curator for South West Asia and North Africa at Museum Fünf Kontinente in Munich, Germany. In 2019, she received her Ph.D. at Ludwig-Maximilians-University (Munich, Germany) for her doctoral thesis on Sasanian cities in Southwest Iran, which was published in 2020 as Sinnbilder politischer Autorität? Frühsasanidische Städtebilder im Südwesten Irans. She has worked on excavations in Iran, the Caucasus, and Central Asia, among other places.