Recorded: November 18, 2020
Event: Pourdavoud Center Workshop - The Puzzling Papyrus: New Perspectives on Papyrus Amherst 63
Citation: van der Toorn, Karel. "The Internal Organization of Papyrus Amherst 63," Pourdavoud Center Workshop - The Puzzling Papyrus: New Perspectives on Papyrus Amherst 63. November 18, 2020

by Karel van der Toorn (University of Amsterdam)
The Internal Organization of Papyrus Amherst 63
Based on the 2018 published edition of Papyrus Amherst 63 Professor van der Toorn's lecture will allow attendees of the workshop to engage with the most recent scholarship on the subject of the internal organization of the document.  His general subject will focus on how the document is organized, but will also engage with students and other participants about any issue that arises in connection with the papyrus.
Professor Karel van der Toorn's Bio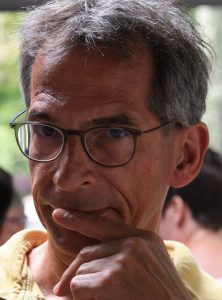 Karel van der Toorn is currently professor of Religion and Society at the University of Amsterdam. He studied Hebrew Bible and Semitic languages in Paris and Amsterdam; did his PhD on Sin and Sanction in Israel and Mesopotamia (1985). He wrote extensively on Israelite religion in the context of ancient Near Eastern civilisation. He published an edition of Papyrus Amherst 63, along with translation and commentary, in 2018 (in the series Alter Orient und Altes Testament, 448; Münster: Ugarit-Verlag). His latest book Becoming Diaspora Jews: Behind the Story of Elephantine (Yale University Press, 2019) explores the significance of Papyrus Amherst 63 for the history of the Jewish community at fifth century BCE Elephantine, Egypt.